Diversity, Equity, and Inclusion: Anti-Racism and Belonging
Focusing on Anti-Racism to Build an Equitable, Inclusive Medical School 
Why Anti-Racism? 
We strive to create equitable and inclusive environments that cultivate a sense of belonging, because they are essential to high-quality patient care, effective learning, and cutting-edge discovery. 
We seek to educate the 21st Century physician workforce – committed and able to dismantle the structural racism/oppression in medicine and health care. These practitioners must be prepared to do the following:
Provide safe, equitable, high-quality, and respectful care to an increasingly diverse population of people, in a manner aligned with the goals of those individuals and their families,
Apply existing and discover new knowledge to solve the complex problems that cause suffering and rob people of their opportunity to live long and productive lives,
Lead and support interprofessional teams, comprised of diverse individuals with multiple points of view, and 
Partner with colleagues, patients, and communities to identify and dismantle the structural racism and oppression that exists within medicine and health care.
Track Our Progress
Building an equitable, inclusive medical school requires an ongoing, continuous effort across the campus, health system, and School of Medicine. We are committed to progress, and we invite you to follow our development. UCSF educators, current students, and staff are encouraged to review the 2022 Accelerating Anti-Oppression Work in Medical Education Charter and the goals outlined below. We invite you to monitor the progress of each goal and objective on the Charter dashboard. For specific questions related to the dashboard or to request permission to more broadly distribute please contact Kelly.Kao@ucsf.edu. 
Where We Have Been
Recognizing that our goal of building an equitable, inclusive medical school is by necessity a long-term, iterative process, we remain proud of UCSF's progress over the years and the School's track record of partnering with forward-thinking student activists and leadership to achieve anti-racism goals. The UCSF School of Medicine has contributed to this important national conversation through scholarly research and programmatic and curricular changes. 
This timeline, beginning in 2014, catalogues the milestones of our anti-racism work to make the UCSF School of Medicine a more diverse, equitable, and inclusive medical school.
To adjust your view of this timeline, search by keyword, or sort by type of milestone or mission area, please click the wrench icon in the lower righthand corner of your screen. ​​​​​​
Striving to Become an Equitable, Inclusive Medical School
Our initial work focused on increasing the diversity of our students, residents, and faculty and addressing interpersonal biases that contribute to inequities in health care for patients, education for students, and incorporating diversity issues into the curriculum.
We recognize the need to accelerate our efforts by focusing on anti-oppression and anti-racism.
We are actively focusing on addressing structural racism and advancing our anti-racism/anti-oppression efforts throughout all elements of medicine and medical education.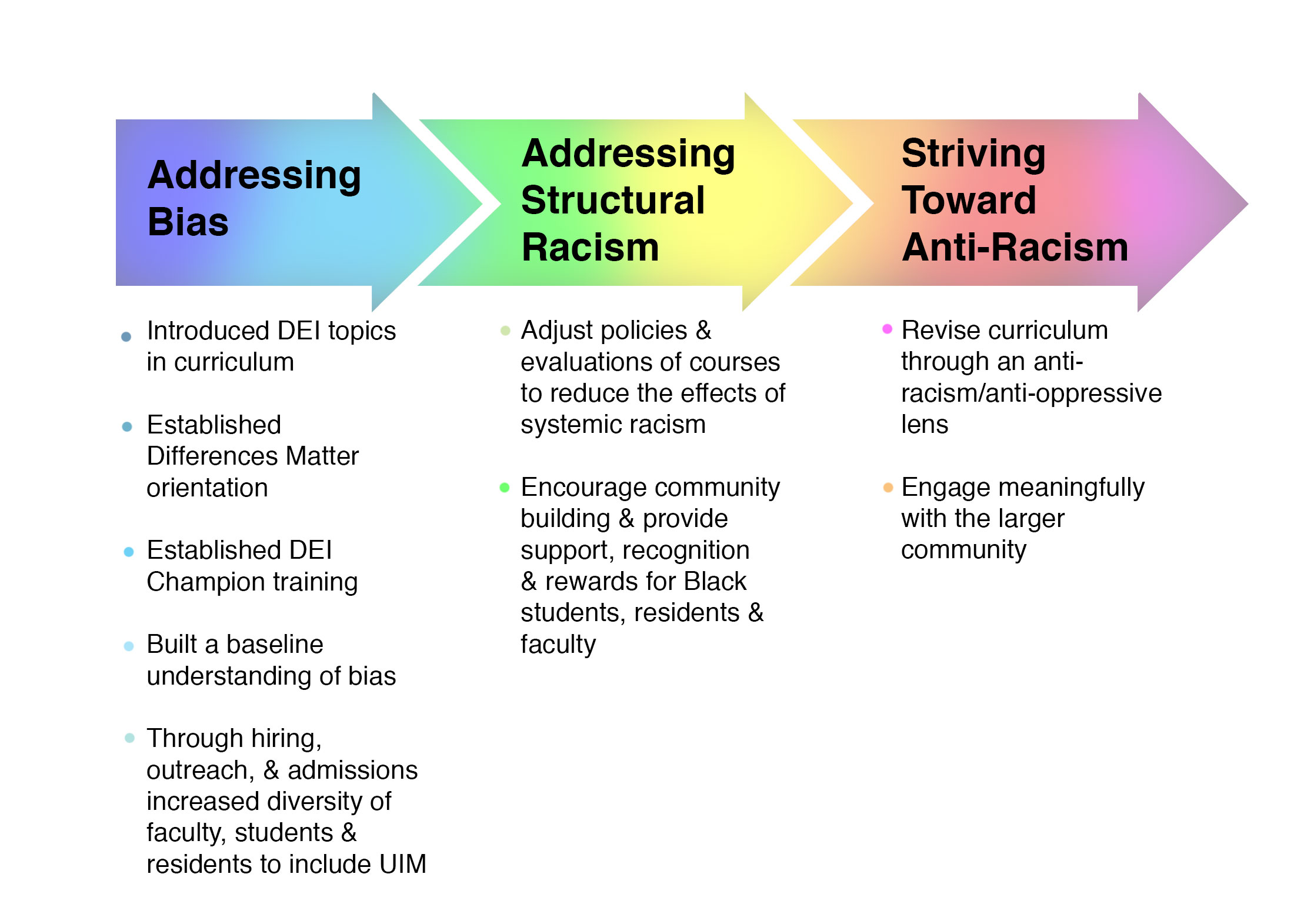 Accelerating Anti-Oppression Work in Medical Education Charter 
In 2022, we developed a new Accelerating Anti-Oppression Work in Medical Education Charter in response to calls from students to change the way racial equity is taught and incorporated into our curriculum. The Charter outlines the issues raised by our students and our collective goals to make UCSF the anti-racism institution we strive to be. 
The Charter is a comprehensive plan that will influence the entire ecosystem of medical education, including admissions, student experience, faculty and faculty. 
Anti-Oppression Charter Goals
1. Student Support: Optimize Support for Black and Historically Disadvantaged Students
We seek to create a welcoming, respectful environment where everyone feels they belong. In addition to the resources available to all UCSF students, UCSF School of Medicine provides opportunities for student support spanning academic and career counseling and emotional and mental health support. We will develop new strategies to encourage community building, and support, recognize, and reward Black students, residents, and faculty.
2. Faculty and Faculty Development: Prepare Faculty for Roles in Anti-Racism Medical Education
The School of Medicine will prepare faculty for their roles in anti-racism medical education. We will expand anti-racism consultation for lectures and small group designers, and anti-racism consultation will be required for all lectures and small groups focused on identify, bias, racism, and trauma. We will disseminate resources and guides for anti-racism teaching in medical education. Existing faculty development will be redesigned to ensure faculty are prepared to discuss and teach anti-racism concepts.
3. Curriculum: Optimize Instruction to Dismantle Structural Racism/Oppression in Medicine and Medical Education
Anti-Oppression Curriculum Initiative
Our Anti-Oppression Curriculum (AOC) Initiative aims to develop an anti-oppressive curriculum that will prepare all UCSF medical students to assume their role in partnering with patients and communities to combat oppression and advance health equity.
4. Educational Continual Quality Improvement: Prevent Curricular Harm and Rectify When it Does Occur
The School of Medicine transitioned to pass-fail grading in 2019 with the goal of minimizing the impact of bias in assessment at UCSF. Today, we continue to develop just-in-time adjustments to our curriculum to ensure that our curriculum is constantly evolving to be more anti-oppressive.
Engaged with external community consultants to revise Health & Society Blocks in Spring 2022.
External anti-racism experts will be engaged to redesign Differences Matter Orientation and Health & Individual block in fall 2022
Developing a new process for assessing and evaluating our courses and ensuring 'real-time' feedback is captured and immediately reported
Learn more about SAFE reporting
Learn more about Assessment FOR Learning
Learn more about Equity in Assessment
5. Community Partnerships: Build Community Relationships to Prepare Physicians to Engage in Anti-Racism/Anti-Oppression Work
We seek to further the School of Medicine's commitment to the Bay Area by seeking community input into anti-oppression content, identifying patients who have experienced oppression to serve as paid instructors for relevant course experiences, and incorporating opportunities for student service and learning alongside community organizations with anti-racism/anti-oppression missions within the curriculum.
The School of Medicine launched a pilot Community Engagement rotation in 2020. The pilot demonstrated that a community engagement thread in the fourth year is not sustainable. A task force will launch in spring 2022 to determine accurate placement.
6. Communications: Openly Communicate Progress Made Towards Charter Goals
To ensure transparency and accountability on our journey towards our goal as an anti-racism institution, we will communicate about the progress toward the Charter goals. In addition to regular updates to this webpage, the school has provided access to a Charter dashboard showing progress on each goal and objective. To provide anonymous feedback on the existing Anti-Oppression Charter, please fill out the Anti-Oppression Charter Feedback form or feel free to email the bridges@ucsf.edu email. The email is checked once a week and forwarded to the Education Deans.  
Contact Us
To provide anonymous feedback on the existing Anti-Oppression Charter, please fill out the Anti-Oppression Charter Feedback form or feel free to email the bridges@ucsf.edu email. The email is checked once a week and forwarded to the Education Deans.